The Danish for Schadenfreude is Skadefryd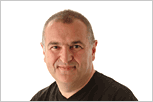 A week ago I posed the question 'What is the Danish for Schadenfreude' when news of the 2nd Great IT Factory debacle hit the wires. Today the Wall Street Journal chronicles more of this unfortunate affair.
World famous companies are looking fairly stupid or even incompetent:
"KPMG audited IT Factory's accounts from 2005 through 2007. Deloitte did the same in the previous two years. From 2003 through 2007, IT Factory reported that its revenue grew 69 times and its profit rose 288 times, to 121 million kroner ($22 million). This year, says Mr. Jensby, the chairman, IT Factory expected to roughly quadruple its profit.
KPMG in Denmark says it is "shocked" and "cooperating with police." Deloitte's Danish unit said it has double-checked its 2003 and 2004 audits and found no problems.
Ernst & Young, for its part, has now withdrawn the three awards it gave to IT Factory on the day Mr. Bagger took flight. "We feel deceived," said Søren Strøm, head of Ernst & Young's "Entrepreneur of the Year" program, in a statement. The accounting firm, he added, is "unable to understand the last few days' developments."
You have to wonder how such a huge fraud in such a small country got past the great and the good of the auditing industry.
The most risible failure was IBM (so what's new) in an apparent desparation to grasp on to 'success':
"A few months after Mr. Svensson's warning, IBM Denmark named Mr. Bagger's company as the year's "Best Partner" in a software business line. The head of IBM Denmark this year hailed IT Factory as "creative and visionary." IBM has now filed a claim with IT Factory's liquidator to try to get back the 125 million kroner ($23 million) it says it is owed by Mr. Bagger's now defunct company."
Hmm, I wonder if they will get their money?
Thanks again to
Volker
for spending more time surfing the web than working and leading me to the WSJ posting