TechEd Developers - Day 3 - Lets pick-up the pieces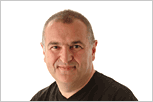 I am defrinately going a bit exhibition gaga. This is manifesting itself as an irrational desire to pull the plug on the DJ who has been mixing an unbridled diet of Moby-style music for the last 9 days and at a pretty loud volume.
We moved to anonomised jazz-funk this afternoon and I could stand it no more. I marched over to the desk and pleaded for a tune with some soul – Average White Band was quickly agreed and at least for one track a musical smile was brought back to my face.
It did not come a moment to soon as I was visited by the chairmain of the Ionian 'awkward squad' who insisted on grilling me for a feature on a product that I have a limited relationship with. My protestations that we should find out what the customer actually needed fell on deaf ears. Ho-hum.
Its reception night tonight – I can't wait (I can really) to see who is going to royally embarrass themselves !