TechEd Developers - Day 2 - My nose is well and truly grounded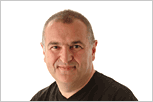 The first full day at Tech-Ed (part 2) consisted of a stream of visits to our stand from people with questions I am not yet qualified to answer. Its a bit frustrating but Rome was not built in a day, however I sure am learning fast.
The spirit of this event is not that different than last weeks ITPro event, those who have made it to Barcelona are upbeat with plenty of activity going on in their Enterprises. I have been amazed by the number of Dutch who are on-site. Goeden Dag allemal.
On a less cheerful front rumour has reached me that IBM is cutting 20% of its consulting workforce, bearing in mind that IBM has turned itself into a Services company in recent years, if this is true there is going to be a lot of pain emanating from upstate New York.