TechEd Developers - Day 1 - IBM subversives on the horizon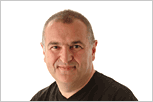 I needed to travel up the Av.Diagonal today to attend a couple of meetings in a Hotel at the other end of town. It was more than a little amusing to run into an IBM Websphere Technical conference which is also being held locally at the same hotel as my rendezvous.
During my visit it struck me that for the masochist developer a shuttle running backwards and forwards along one of Barcelona's most famous boulevards would enable technical overload of the most horrendos kind. I will have to keep my eyes open for any geeks that look suicidal over the next few days.
In an hour of so the kick off reception at our end of town gets underway. The TechEd conference starts with an afternoon keynote, this gives our attendees time to assemble from all for corners of Europe. It is noticeable that Microsoft allows time for travel from distant parts (thus reducing cost) in a way that typcially I did not see with IBM. I am not sure if this is deliberate, but our attendees should really appreciate this arrangement.
I think this week is going to be as illuminating the the ITPro conference was last week.