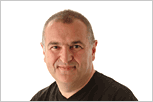 I got up early to blog today without any particular axe to grind. My first inclination was that a quick spin around my favourite tech sites would inspire some techy muse. Reading Computer Weekly, ZDNET, CNET and even the veritable BBC site had nothing that got my creative juices flowing.
Traditionally British newspapers have an annual 'silly season' when hard news dwindles and stories like '
so and so ate my hamster
' become popular.
Tech news seems to been in the same lethargic place at the moment. Right now the only vaguely interesting stories are about iPhone and Micro-hoo.
I have thought about doing some predications but this is notoriously difficult so I am going to blog on the second 'oil crunch' and its effect on web 2.0 technologies over the next few days.