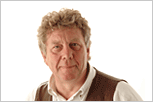 August Bank Holiday sees my home town transformed. It's Plum Fayre time. The plum was brought back from the Middle East by Richard 1 (lion heart) and entrusted to the care of the monks of Pershore Abbey. The Benedictine brothers were diligent breeders and propagators of their charge until Henry VIII imposed a windfall tax on the monasteries and closed them down – the plum, however, survived and thrived.
From my house I can see what remains of the Abbey and the Fayre Ground including the goings-on from Teddy bear parachuting off the tower to Morris Dancing etc. While cooking lunch I burnt myself in a minor way on the finger – result three blisters. Foraying out, in search of a plaster, I came across a group of St John's Ambulance staffers helping out in case of an accident. I asked what the best remedy for a burn was.
I was immediately set upon, taken into their tent and a 'trainee' given the task of administering to me. Twenty minutes later after rubber gloves, ice pack, burn gel and a bandage that made my hand look like a boxer's before the gloves go on I was dispatched to the sunshine.
Why go on about all this? The useful tip I picked was that if you or your offspring want to get involved with London Olympics (in a non-competitive way) volunteer for St John's Ambulance and you'll probably get in.