Small things (BBC, Twitter and black is black)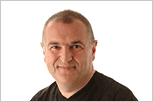 BBC, Plaxo and Twitter – sounds like the name of a new game show or kiddies TV political analysis series.
Collaboration and Web 2.0 (and all of the other 2.0 stuff) are they really connected? – what with Lotusphere comes to you and the dis-jointed week I have been experiencing it seemed a good time to reach out to some of the other cool bits of technology that are out there but which I have been avoiding that might(??) make my life a bit easier!.
So each week (for the near future at least) I am going to adopt one Collaboration 2.0 technology and give it a whirl, additionally I am going to review my other tools and their state of play.

Twitter
This week I have decided to Twitter ( my link here ), this of course comes as no surprise to my family who have been convinced I am a twit for many years. Based on wanting to be indigenous (ie digital native rather than a digital immigrant) this seemed a good place to start. More on how this is going in a couple of weeks time.
BBC Website
The BBC have been 'making over' their web experience dramatically over the last week or so. The main site has been substantially AJAXed with improvements to layouts, added personalisation and at last the BBC have removed the legacy 'we have to stick to 800 pixels wide' design restraint that has been hampering them for some time. Seems that they have moved to 1280ish pixels as the new standard width – revolutionary h and if you have missed it check out the impact (BBC tells ISPs to get stuffed) the iPlayer is going to have on the costs of broadband in the near future.
Plaxo
Black is the new black and Plaxo is the new Facebook. Plaxo is really going all out to be the 'Facebook for Business'. Starting out as an online repository for contacts with a bit of flaky integration with your email address book, Plaxo is really motoring ahead with massively improved syncing with lots of on-line directories, on-line services, off-line messaging and system level contact management. But the UI and structure is starting to really take on the look and feel of Facebook without all the annoying bits that have crept in over the last 6-9 months. Plaxo is on the top of my recommendations list for you to check out