Pushing Back - its a weekend thing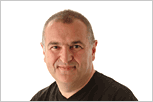 I have to thank
JP Rangaswami.
for alerting me to Sean Tevis in
Oklahoma
Olathe, Kansas.
Sean is fed up with his state representative and has decided to harness the power of Web 2.0 to build up a head of steam in his own campaign for office.
He has
posted a great cartoon
on his website that communicates his campaign approach in a very amusing and effective way. One little guy standing up against the system.
But the system itself can get its 'knickers in a twist'.
Earlier this year the British government decided it wanted to log everything (no I mean everything) regarding our electronic communications. Is seems that the amount of push back they have received has made them vacillate a bit. The BBC has
a succinct story
on what they are trying to do and who and why others are trying to stop them. It is very educational article.
Stand up for what you believe in and have a nice week-end.
Updated to reflect the right state – sorry for the mistake