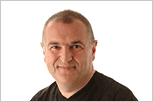 In the days before Lotus Domino there was Lotus Notes – yes I know that is a bit of a strange statement but until 1996 there was only Notes (Notes clients and Notes servers), everyone could develop applications and populations of departmental servers sprouted across small, medium and large enterprises.
In the meantime IT departments lived their lives in blissful ignorance of the impending loss of control of corporate unstructured data. Eleven years on and the echoes of those times have re-emerged in a set of predictions for 2008.
IBM super-blogger Ed Brill has pointed his large audience to an interesting set of predictions.

Ed commented on a blog posting on CMS Watch. As you would expect from an IBM perspective his focus was upon the CMS Analysts observation that Sharepoint is entering the 'popcorn' phase that Lotus experienced over 10 years ago. I am sure this is true but like the proverbial cat, Sharepoint is well out of the bag by now.
But it was not just this observation that interested me, a couple of the other predictions surrounding Content archiving (Collaborative and Files system based), Enterprise 2.0 (including Collaboration 2.0) and the focus on Search all resonate with clients I am dealing with on a daily basis as issues for which they are trying to gain control.
Is there a conclusion to all this, my guess is that overall unstructured content control has been lost – period – we (the Information Technology industry) will continue to try put the Content Pandora back in her box and they (pesky users) will continue to find new ways to try to make life easier for themselves and hard for us.
Its a challenge and for myself one that I enjoy.