Planning recovery # Tip 3 Civil Unrest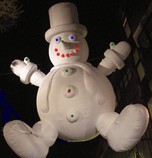 In this series looking for the opportunities that may happen out of accidents rather than planned initiatives, I read today that the civil unrest in Greece has created a chance – albeit a rather unpleasant one – for someone, in so far as the police having run out of tear-gas are tendering for more.
With well-educated, middle class twenty something's (who have hocked themselves in debt for a degree they believed would get them on the road to riches) now looking at an uncertain job market, the likelihood of civil unrest is considerable.
So where is the business opportunity in this? Looking at both sides – those perpetrating unrest i.e. youth, the impoverished middle-class, anarchists etc. and those fighting against it i.e. the police, the ruling elite and the provisioned middle-class – opportunities for collaborative technologies exist from civil-rights activities on the one hand to personal protection networks on the other.
The gulf between the haves and have nots will fracture social networks creating divisions within families and between friends. Let's see how technology can bolster these structures rather than undermine them.