Open letter to IBM Lotus - postscript - challenging all who really care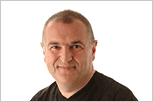 Do blogs matter, well maybe in the IBM universe they do… Ed Brill is one of IBMs most influential bloggers (as an IBM employee) and his reactions to my last post have stirred a fair amount of comment. Interestingly he directly quoted me (below) in his blog:
It is clear from even the most casual observation to see that the funds now being invested in product development are at a rate not seen for a decade. As much as I applaud this turnaround it seems that although the factory is running at 100% capacity the marketing strategy as to which customers should be buying the output and more importantly why they should be buying which piece of the output seems to have gone walkabout. Looking on at a distance, how all the pieces fit together within an 'over arching' structure frankly seems completely absent.
I have been impressed at the level of rational discussion engendered as a result of the excerpt quoted in his blog, however I am disappointed at the shortage of constructive suggestions generated. As a blogger its always nice when people agree with you and often as nice when they don't!
So the challenge is to those who care – come up with some pithy positioning (try to say that drunk) so that the senior IBM dudes who I know are reading this and other blogs can be inspired to do better than they are at the moment.
Ideas as responses to this post please
ps the emphasis is still on the why