One conference, four keynotes, two legs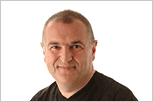 How many keynotes can one conference support? IBM believes the answer is as many as you need – the only problem is that they start at 8am, not great after an evening of refreshing old friendships. And my legs and feet are under siege and my shoes are suffering from cheap carpet burns. To matters:

Yesterday was 'Sametime' day exploring the opportunities, capabilities and technologies of Unified Communications. Lotus has gone to town by making alliances with practically every major switch vendor from around the globe. Sametime is demonstrating and delivering the trend to fully integrate telephony, conferencing, video, real-time communication and awareness into a digestible form. The potential for ubiquitous follow-me and more importantly (to me) a pervasive 'do not disturb' that lets users focus on real stuff has arrived from the dreams of futurists.
Smart integration of both web 2.0 techniques and objects is showing up all over the product line in a controlled and consistent manner, its all looking very interesting. The outcome is that the Lotus landscape is demanding new skills and competencies right now.
Some of IBM's future thinking is ground breaking as it moves from the 'right out there' of Second Life to new simpler visualisation that will be more rapidly adopted across Enterprises. Next year is going to see some really clever stuff.
On a more general note it is pleasing to see the amount of IBM customers who are forming both part of keynote and subject session delivery. It does not feel forced and it is adding a demonstrable sense of depth beyond the marketing hype that only subject matter experts can deliver.
IBM is however in slight danger of being strangled by its own welter of product, the amount of announcements this year has reached an all time high – considering this is only a little chunk of Big Blue. If during the coming year a significant proportion of the new stuff takes off then next years Lotusphere will resemble a Japanese metro train during the rush hour.
Talking to my peers (and there are a lot of them here) my sense is that now is the time with the emerging Collaboration 2.0 tools that we have to get the message 'just right' when we talking to the business. I know it is a bit 'yada, yada, yada' but we have to focuss on solutions and really try to abstract the technology way from delivery.
Tomorrow is Social Networking for business, tonight will be Social Networking for attendees, much more fun.