Mary-Jo Foley, uber Blogger, Microsoft scourge and advocate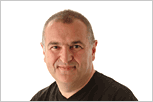 One of our industry's key articulate voices is Mary-Jo Foley, her blog on ZDNET, All about Microsoft, is one of the most subscribed in the IT sector.
I have been following Mary-Jo for quite some time but of course with renewed interest since I joined MS. It was a particularly nice co-incidence that during her book launch tour she hosted a Q&A at the UK Microsoft HQ and feeling a bit sheepish I sat at the back, listened and asked a couple of questions.
What struck me during the hour long session was the manner in which obsessives inside of our space are almost Stalinist in their views of Microsoft, IBM, Apple, Dell, HP, Sun, Google etc, etc, etc. Over the years Mary-Jo has run stories both positive and negative towards my new employer and has had vitriolic comments which advocated extreme positions.
The rational among us will realise that today our industry is healthier because of what all of the above companies have done, and they will do in the future.
I know lots of bad practise has existed but also I know from personal experience that most of the above organisations are not in the position to 'throw stones'. From my personal experience I can testify that I am being exhorted to behave in a highly ethical way (and I will) as part of my corporate ethos.
I asked this Mary-Jo the difference between professional journalism and professional blogging, here response was that bloggers put their opinions into the public domain whereas journalistic news pieces are supposed to be un-biased (and we all know that is not always the case).
As for my new 'Microsoft life', well it has started in a very stimulating way and I hope to report on more of it in the coming weeks.