Make the sacrifice - the kindest deletion of them all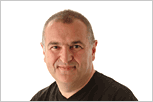 Talking to my colleague Gareth yesterday, we pondered over the volume of digital chaff that we were receiving at present due to our current activities. Gareth (as ever the practical one) bemoaned the fact we had not set up 'sacrificial email accounts'. So I went and looked up sacrifice.com hoping that it would not be too pornographic and that I would not be arrested by some over enthusiastic rozzer as I did my research. Amazing all I got was 'The site is being redeveloped please revisit in early 2004.'
It struck me that a pop3 only service that would simply allow you to create an account for (say) 3 months and come what may it would be deleted at that point would be a useful service. This would be a digitial 'poste restante' for the 21s century.
I took a quick scoot around the net and could not find anything that meets my requirements so it looks like Gmail will have to do
Next time you need to set up a temporary subscription, recruit or apply for a job or have any shortish term project that you do not wish to be overwhelmed with spam, give it a go.
ps
for the uninitiated
rozzer = policeman (used on TV in the first episode of the latest series of Top Gear, not seen it in use for a while, very 50's_