Lotusphere from outside the bubble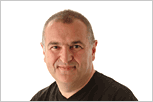 It is good to see the gathering of the clans once more, even though I am no longer a part of it.
I shall watch proceedings from afar, by courtesy of the Blogsphere of course.
It will be interesting to see how the following items pan out:
a) What cool / new / updated / bought in technologies enter into the collaboration space via the Lotus brand in 09
b) How many attendees have pulled out at the last minute due to economic issues
c) How much my company gets pot-shots taken at it by IBM over the week (its normal, no need to worry)
Lastly how much main stream coverage IBM can evoke during the 'sphere. There is lots of news going on right now and I suspect column inches will be hard to secure.
For those partying tonight, 11c(50f) is fairly cool so wrap up warm and Tuesday is looking mighty cold – well not as cold as where I will be – Sweden.