Lotusphere comes to Wembley - liveish blog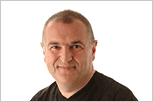 In the great scheme of things Lotusphere comes to you comes a distant second to Lotusphere in Orlando. For instance at 10:12 in the US we would be twelve minutes into the starting session not running twelve minutes late.
Currently we have two talking heads on a video loop from HSBC telling us why they love Lotus technology in the Bank – I am now watching this for the second time and I expect in a little time if it loops again I will know the script.
Anyway why is the interviewer American, it seems to at odds with an in-country event.
David Farrell (VP Software Europe) starts off with a bunch of questionable statistics about this event, the Orlando event and Wembley (those are probably accurate). Enough now – get off and let us get to some meat.
10:23 and we are still doing house-keeping – 10:24 Bruce Morse gets going at last ! – VP of Sametime (UC really)

Jokes about guitars, Wembley and baldness – nice – make your audience feel old (or think you are old)
10:26 and the 10:15 pitch starts !
According to an IBM study CEOs surveyed reckon 'Collaboration' and 'Innovation' are their #1 priority – hey the room is fairly full – not bad
IBM reckons that it is only through innovation and collaboration that businesses will grow (costs have been pared to the minimum) so now we are being shown how collaboration is being delivered to departments, businesses and social technologies.
Lotus is Flexible, Adaptable and Open – we are into the IBM still loves Notes and Domino bit, very important considering the amount FUD around the Notes commentaries over recent years.
Interesting, we have already dived down into detail! – clients, features and technolgy – I suspect this must have been designed as the reassurance section – of course I heard most of this in Orlando so I am a bit jaded.
Canned demo of client – the AV is not good enough for a room this size (memo for next year)
Eclipse & Expeditor – key technology to be delivered in Notes / Domino 8.5
Server based ID-vault
Integration of directory with AD
Off-loading attachments
Loads of stuff on the Web 2.0 capabilities which are delivered from 8.5 onwards- no mention of the estimated release date (I reckon September)
Ok – its back tot the future now – Lotus Symphony (Super Open Office that isn't MS office) – Open, Open, and Free – MS suck on that (inferred if not said)
All built on Eclipse and we are off to portable-ise mashups !
Now Bruce is on home ground – Sametime – and its been in market for 10 years now – wow I am sure it was a bit less than that!
OK – UC2 (squared) strategy now – lots of words not a lot of meaning – its all going a bit too fast – I wonder how they cope with Bruce in non-native English countries. I wonder if he will talk about the iPhone?
I need coffee and there is still 35 mins to go
Right I realise now what is wrong – they are talking to this audience as if they don't know anything – I think this may be a problem – OK we are buried deep into the different licences and editions of Sametime – too much stuff – Alan Hansen at 16:30 is going to be much more fun!
Sametime canned demo now – gosh this feels ugly – yes I am an atypical attendee – lots of the word 'planned' – the ideas are great but pre-showing is always a risky strategy – I hope those around me don't mind.
Sametime smart routing – is really good, how hard is it going to be to deploy ???
Webpshere portal – gosh this is a high speed trip arond the IBM Software Group portfolio – boil in the bag solutions (accelerators) seven right now and more coming over the coming years – yup IBM its not good enough to deliver just a J2EE framework your customers need real stuff out of the box.
Expeditor comes to the fore again – really key technology .
Lotus Total Forms (rename here) is being showcased – canned demo again – ugh it feels very smoke and mirrors
Quickr – the hosing goes on – there really does not feel that we have any sense of a/the big picture.Lotus Connections is coming up and I'm going out, enough for now
Part two will come from Manchester on Thursday