Lotusphere comes to Manchester - liveish blog part 2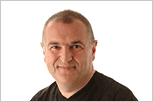 As promised (threatened) I am picking up the live blog from Tuesday morning lengthy proceedings.
First things first, both Wembley and Manchester give good food – this fairs very well when compared to the stodge we get in Orlando.
For the afternoons presentation I have decided to attend 'Social Networking – fad or business value', delivered by Brendan Tutt (IBM) and Jon Mell (Trovus).
Interesting chairs in here, they rock (as in 'move' as opposed to being 'very good')
John has kicked off by telling us why Social Networking is good for business, because of Innovation and Change
We have been introduced to Digital Natives and Immigrants – I am supposed to be in the latter but want to be in the former !

Interestingly (and unsurprisingly) John is focusing on relationships – I must introduce him to GCN – I wonder if John plays the trumpet – he doesn't seem to breathe.
Now Jon is really talking about our Goal Centric Networks I will need to talk to him after this session.
Brendans back on now – nice pace and intonation – back to IBMs key objective: selling – Brendan is focussing on something which we ought to call Knowledge Harvesting (rather than KM). All this is a nicely refined set of messages first set out in Orlando and which have moved on in coherence well since January.
Connections 2.0 pitch now – this should be good for the debutantes in the rooms – Lots of blah blah on new features (sleepy – this is the after lunch session) lots of slideware right now…….ooh a Camtasia would be nice if the AV was better, but better than plain ppts
Well done Brendan this all seems quite interesting, Connections in action – very cool but does it relate to SMB.