Its a box Jim, but not as we know it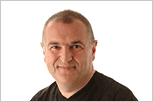 Lotusphere is not for the the faint-hearted, as I move into day two I have already been to four presentations, two one-to-ones and a couple of receptions. However I think I understand what is really important here today.

After the welter of announcements yesterday its time to pick out the meat from the bone.
Altogether there were eight specific announcements; Lotus Notes 8.0.1 "My Widgets" features, Lotus Domino 8.5, Domino Designer in Eclipse coming in 8.5, A new alliance and tighter integration with SAP (code named Atlantic), Lotus Protector (email security appliance not a prophylactic), Lotus Notes client on Ubuntu and Lotus Foundations (an out of the box complete collaborative solutions for SMB).
The trick is to work out what is technology 'sleight of hand' and what is innovative and substantive from a business collaboration perspective. IBM is moving all of its technology to using and exploiting Web 2.0 techniques and a consistent UI, its has shown here that it has at last learnt from Microsoft that a common look and feel across the product set has real business benefit (and sells more licenses).
Although not yet fully delivered I believe this initiative will offer business much faster time to value as users recognise and understand the interface features and capabilities. New applications and processes that are consistent and inter-operate will be adopted quickly by businesses units and deliver collaborative benefits in new way. Microsoft learnt that a long time ago.
As a strategic initiative consistency is an important objective however of the eight products above one struck me as much more of a signpost to the future than any other. Lotus showcased Lotus Protector, this is a solution in a 'black box' for Mail Security. The box contains the hardware and software combinations (or you can get it as a software-only VMWare image) pre-processor for anti-spam and anti-virus.
In itself this is not terribly exciting although Barracuda are likely to be a bit unhappy, the significance to me was the displayed image of the device with a big yellow Lotus logo on the front. To me this underlines the renewed commitment of IBM to a brand that for a number of year languished unloved and suffering from under investment.
I believe many people should take note of a re-energized Lotus. Its great to see new innovative stuff as well as improved boring old stuff coming out of the front door.