IT is boring say UK graduates - wow they are soooo perceptive these days!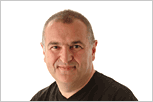 According to a recent Career Development Organisation (CDO) study of 2000 undergraduate respondents, 'over 60% of non-computing students do not wish to enter the sector because they
think it will be boring
.'
The article
in Computer Weekly goes on to state: "IT is at the heart of business these days and there are real opportunities now to have a career in IT which will ultimately lead to a position on the board." – yeah, as if.
Slashdot has an active thread on this right now with the usual mix of views from 'its all Bill's fault' to 'I don't like capitalism' type entries – highly amusing.
For the uninitiated – most jobs are boring – the objective is to find yourself in one that is less boring than others. Rockstars, Neurosurgeons and Royalty all find their jobs boring, just less often than most.
I am off to become King now….