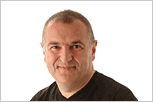 'If a first you don't succeed try, try, try again' could be the corporate motto of International Business Machines. For (I think) the third time IBM is making a determined push to attack the Domino hosting market.
As pointed out by the estimable
Ed Brill
GCN.com have
posted a story
that IBM is going to try to crack this nut once more.
'The hosted offering will be targeted for organizations with 1,000 to 10,000 employees, and will offer, in addition to the basic Lotus e-mail and calendaring, additional collaboration tools.'
Domino hosting is being carried out today by a number of players but in this incarnation pricing appears to be more aggressive in a market that is looking for cost savings – smart.
The $64,000 question will be if they turn this into a channel offering or if this will appear to cannibalising the services that many partners rely upon. To coin a phrase 'there may be blood'.
Watch this space.