How to escape death by a 1000 cuts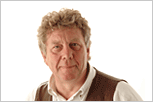 Many of the IT departments I've worked in or consulted to, do not have a communications or marketing program. In the history of business we're a young part of the mix. Our strategic value is vague and rarely articulated clearly. Many of us talk about things in technology and not in business terms.
If the belt is being tightened, having someone at the strategic planning table able to put forward cost saving or investment ideas that will help the organisation survive is critical. Start off by getting away from your desk and do some 'management by walking about' to find out from other departments how you can support their initiatives or ease the pain.
Once you've got the intelligence, get your team together and brainstorm some options to help the enterprise. Get the help of the best marketeer you know to advise you how to communicate these in business terms and then market the ideas round the organisation. You'll then be seen as a valued strategic partner and not just the department to die by a 1000 cuts.
P.S. If you need help with marketing, phone up one of your suppliers and pull in a favour by running ideas past their new business manager to get commercial input on your initiatives.