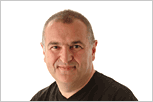 One of the key areas for industrial grade collaboration is Compliance and by now you would have thought most European companies will have worked that out for themselves. But no, according to a
recent article
in Computer Weekly:
'Almost 46% of European companies do not comply with Sarbanes-Oxley according to thesurvey of over 500 IT directors sponsored by IT management software company, CA.
The survey, which included over 200 responses from European companies, also found that over a third of European companies still do not comply with Basel II.'
An objective for my technical evangelical role with Microsoft and Groove will be to have at least some small chance to enlighten them on the importance of secure, auditable collaboration.
I fell a bit like the ant and the plant, but I've got 'high hopes'!