Gordon's Digital Industry Initiative # 2 Mobile Marketing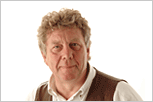 The mobile phone has become the main means of voice and digital service communication. With 3G services enabling fast transfer of wireless data, mobile marketing is meeting its potential and is being used by marketeers in many sectors. It has moved away from being a supplemental channel to become the preferred way to reach the lucrative youth market.
With less happening at the desk, the opportunity lies in developing location based services that bridge the digital and real world. We see some of this already from parking meter charging to monitoring of heart pacemakers. The next step is in Geographical Information Systems (GIS) location, not just for navigation but sending enhanced hyper-linked targeted local ads using a combination of Cell-id, wifi and GPS.
Interestingly, GIS became part of the national A-level curriculum in September last year. ESRI (UK) and the Geographical Association have launched the first A-level GIS teaching resource created for the UK market.Written by Dr Peter O'Connor, Head of Geography at Bishop's Stortford College and a member of the Geographical Association ICT Working Group, GIS for A-level Geography is available now from the Geographical Association.