Getting on the Radar - why is IBM not registering? (edited)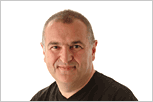 My attention was brought to the Web 2.0 site Upcoming over the weekend by good old Scoble. This is a Yahoo site that is an excellent source of information on all sort of events from around the world. From London's Notting Hill Carnival to New Zealand's Webstock it all there. Well, er, no it isn't.
I thought I would check out to see if September's
UKLUG (Lotus User Group)
in London had been added – no, OK then what about the massive
Lotusphere
in January in Orlando, nope, not there also.
I thought I would try for all events based on the keyword 'Lotus' in all geographies. I got 14 hits, unfortunately none were for Collaboration, I did however find an event titled 'The Flesh Burlesque at the Factory' in New York which seems kind of interesting.
Worldwide I got hits on 15 events that had some 'IBM' participation although non seemed to be IBM sponsored, when I searched on 'Microsoft' 107 popped up.
In a world where getting noticed is nearly as important as what you deliver then IBM better wake up a smell the coffee (and that goes for User Groups as well).
Upcoming is not going to suddenly make all the difference to attendance levels but it is part of the greater 'shaking of the trees' which needs to be done if IBM Lotus wants to be thought of as contemporary.
The UKLUG and Lotusphere are now both on Upcoming (thanks Mike for UKLUG)