French Letter #4 - The 'new' Facebook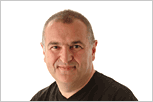 'Allo 'allo
So the new Facebook is now available for all to use. I have been having a prowl around the UI and it is of course 'different'. Much of FBs success was down to a clean and intuitive interface so this radical change could have severe adverse effects.
There is much better use of screen real estate in the new Facebook but it does look (compared to the original UI) a bit unbalanced. The Facebook we see today is different from when I signed up two years ago however I reckon mkII will not stop the relentless march of this service.
These change are always of interest and as ever gets me wondering what the mkIII UI will look like?