Foundations and IBM, The Empire strikes back!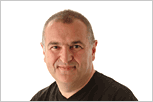 IBM reckons Microsoft has had it to easy in the Small to Mid Market sector. Back in January they bought Nitix, a small Canadian outfit, that have built a self propelling server (Lotus Foundations) around a customised Linux disti. The Nitix box does everything (and more) that the corresponding MS product does:
Full featured software appliance
Self-managing, self-healing system
Email and advanced webmail
Office productivity tools
Network level firewall, antispam & antivirus protection
Remote connectivity and VPN
File and print services
Central file management
Automated disk backup
Disaster recovery
IBM pronounce that the whole think can be up and running in 30 mins via a Web UI and can support up to 500 individuals. Good stuff. My colleague Gareth is
blogging
on this so it will be interesting to see through him how it progresses.
I don't think MS will be quaking in their boots, however it does offer small businesses a fully featured offering that hangs together as a logical entity rather than the mish-mash of services they are struggling with at the moment.
A key do this will for someone to to some realistic comparative pricing, the wallet is a great motivator for most small companies.
Lastly, if IBM can do a deal with Dell then the show will truly be on the road.