Facebook is promoting promiscuity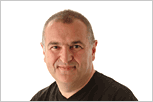 For the past few weeks there has been something about Facebook that has been gnawing at me. I have not been able to put my finger on it until today.
On a regular basis I get messages such as
'Find your target audience
' as
Facecorp
(lets call FBs parent that) tries to persuade me to buy ad space as part of their monetization efforts.
Today I started realising that I am getting fed ads that simply do not correlate with my profile. Facecorp knows I am in a relationship (and have been for 25 years and 2 days) but keeps targeting singles ads at me.
I like to think I can control my hormones however for the weaker (and more gullible) amongst us it could lead the unwary into life choices they may regret. Being recommended "
Boiler repair services
" is one thing however the same can not be said for '
finding hot singles
'.
I am not moralistic about this, however it could give Facebook a tawdry image if not controlled.
Come on Facecorp you know enough about me to be smarter than this.