Computer Weekly requests and Lotus delivers!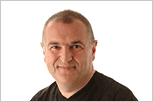 According to Antony Savvas recent article in CW, a group of surveyed users indicated 'E-mail is the most desired service for mobile phone users'. Today at Lotusphere IBM announced immediate availability of business grade email for the iPhone.

With a full blown symphony Orchestra, Lotusphere signaled an important alliance between IBM and Apple with the iPhone now being looked at as a business tool not just a 'trendy toy' for execs.
Notably in the US the iPhone has been tremendously successful. Many senior executive are demanding IT to 'connect me to corporate messaging' and this until now can be done only with a bit of effort, but without the corporate diary. The killer application is the calendar and this is now a capability – Apple and Lotus' announcement may turn out to have a real impact
This was not the only significant announcement. Lotus Foundations (does anyone know where Trantor is?), the re-badged acquisition of Nitix plus other Notes and Domino technology has signaled both investment in and commitment to tackling the smaller end of SMB with a complete and hopefully coherent set of offerings.
To me the most surprising announcement was Lotus Mashup. Using browser based technology Mashup will enable internal and external business objects to be deployed and connected by end users. This will create a new generation of self service applications defined by end users and connecting processes and data at the glass in a way that suit the business not just IT. Potentially this is a very exciting announcement.
Although 2007/08 has been a year of acquisitions for Lotus, these plus the internal developments now mean that brand has many offerings.The trick is to weave these into a complete, structured and understandable set of offerings.
A full summary of annoucements pre-digested can be found at Ed Brill's excellent blog.