Commitments - A recessionary warning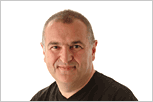 In these financially challenging times the need to 'close the deal' has never been more pressing. My antenna is picking up stories of business partners over reaching themselves both in terms of resource commitment and technology capability.
For what it is worth I think that during current hard times managing big projects is going to require a level of close management of client expectations far beyond what we have been used to in the past.
The three point guide:
1) Don't over commit
2) Join your customer at hip if possible
3) Stay focussed and 'tight' – don't add any risk your projects