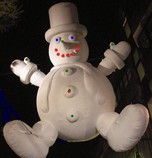 The hungry months in many areas of the world were, and sadly still are, the time when food from the last harvest was in short supply with nothing from new plantings yet available.
This recession will see such times for many businesses. Expect pangs of hunger to be felt between February to May — the point where orders/projects finish.
However, that's where the analogy ends. The 'green shoots of recovery' (promised by politicians as the way out of either a V shaped downturn as HMG hopes, or an L shaped one, where we bump along the bottom, as some naysayers predict) can only come about if either, you've planted something or seeds germinate by accident.
With discretionary spending on hold in most organisations (seed corn) you've got to spot where accidents might happen to reap a financial harvest. I'm going to be exploring this theme over the week as I like my tuck and most of us don't fancy going hungry.