And now on the World Service 2.0....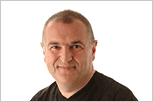 I have a vested interest. In my distant past I worked for the BBC, I still have a great deal of affection for the esteemed organ of the British establishment, but it is changing. I came across this very interesting article on the changes now being implemented at the Beeb.
The corporation has really grasped the possibilities afforded by the latest web technologies (check out its podcast and vodcast output) and within the next two years on the back of the iPlayer we are going to see a tons of innovations affecting both UK, European and world wide audiences. The world of broadcasting, narrowcasting and affintiycasting will never be the same again.