Review: Iomega delivers Linux NAS to home users
Once you have more than one computer at home, you end up with the challenge of sharing data and printing. At work this task is handled via a dedicated file server and a networked printer.
These days, a cheap Linux-based box can now offer file and printer sharing at home. Some even offer a DNLA.-compliant media server built-in, giving you access to music , video and pictures from any device capable of accessing. it, such as a Sony PS3 console. You no longer need a dedicated Windows PC for sharing files and a printer.
The one I use is the Iomega Home Media Network Drive.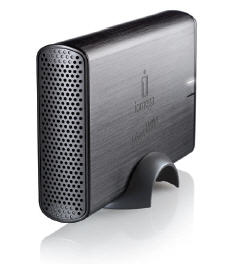 It includes a gigabit ethernet port, a. print server, a 1 Tbyte hard disk and a uPnP/DNLA media server. Once it has been plugged into your router, any device cam access the hard drive, whether it is connected to your network over a fixed ethernet connecion or via wi-fi. You can plug in a. printer into the USB port, to enable networked printing and the device is pre-configured with several network shares for picures, movies and music. The Iomega Home Media Network Drive offers the idea of Active Folders. Files stored within an Active Folder are synchronised over the internet automatically. They connect to services like your Flickr account for pictures and YouTube for video. Files can even be shared over the internet using the built-in FTP server.
Setup is relatively straightforward using a browser-based configuration tool. There is also a utility, which sets up the client machines to access the network shares.
All of this functionality is now available for under £100, which is phenomenal value. It makes you wonder why you'd ever need Windows Media Center or Apple Air port.