Office 2007 Deployment: Planning
Without a good plan, any type of deployment is bound to have problems. Arguably you would have a project plan in place to follow before any techincal work begins, as naturally you have to ensure that you will have the right resources at the right time who can do the job within a given time frame.
When planning such a project like this though, it's been a bit of a headache to actually think about what you have to do because you could turn around and say: Requirement is to deploy Office to various people, job's a good un. But it's only when you think about all the different parts which would go into making that happen that you see how much actually has to be done.
For instance, you've got to see if the workstations out in your enterprise can actually run Office in the first place, so there's a matter of looking at what you have currently and what upgrades are required. There are a number of ways you can do this, some use WMI to query disk space etc, other people have asset tracking databases which has this information entered.
Other issues which will crop up include the ever present "Do you need to hire someone?" bascially someone who can take care of certain aspects you don't have the knowledge in house either just for the duration of the project or long-term. You'll probably be fortunate to have people in place already, but what if they are all busy with other important projects at the same time? Something to think about in any case.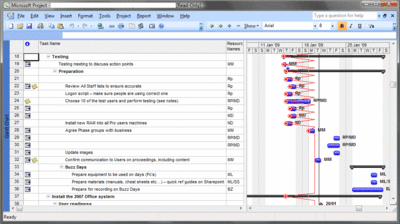 You're going to need to factor in some form of training with the software deployment for users as not all of them are going to be familar with what you are intending to role out. With Office 2007, the interface changed greatly with the introduction of the Ribbon style and look. While it makes things easier for certain functions, for others you may not have a scooby-doo (clue) as where to go for the same function you did before.
Microsoft have been very good to actually come in and run training sessions to give a good understanding of what's changed and how to better use the software rather than just the likes of us IT people throwing it out there and hoping for the best. So some form of training you're going to want to have as part of your plan.
Licensing, support processes, what milestones you have, meetings, money, there are many things which need attention before you get off the ground with anything and if you have a good PM, they will look at all sides of the coin and sort it out.
Lastly you would have the plan visible for all to see so they know exactly what's going on when and by whom. MS Project was used to create this and then had it shared over a sharepoint site for all involved with the project to see, and for management to have a good grasp of where we are up to in the whole process.
I suppose there are more indepth discussions on project management to be had and we've only covered the basics here at beast, but the jist is; if you have a good plan, you have a better chance at succeeding. That cannot be underestimated.