Meego is an attempt by Intel and Nokia to create an operating system platform for mobil devices like smart phones and Net Books.
The Net Book version can be booted from a USM memory stick, but you will need to use the Linux dd command (dd bs=4096 if=<image file> of=<usb drive>
) or the Windows utility MeeG provides to make a "bit copy" of the MeeGo operating system .img image file.
Booting is fast, even off a USB memory stick. When you boot from USB, MeeGo gives you the option to install it, run it from USB, or boot the computer using whatever OS is already installed.
Booting into MeeGo takes around 30 seconds and on some machines, like my Fuitsu Amilo Net Book, it detects the wireless connection automatically.
Unlike traditional operating systems – or even the Net Book optimised Ubuntu Net Book Remix release – MeeGo offers a browser-like UI. Tabs across the top of the screen move you between different modes of operation. There is no desktop per se Instead you have a "Home" screen, which is a bit like an internet portal, showing thumb nails of whatever you running apps, like Twitter feeds, email and any images, multimedia or document files that are open. "Internet" gives you access to Chromium, the MeeGo built-in browser – but you can install Firefox
The "Zones" tab works like Task Manager in Windows, which lets the user move directly to a running app. "Applications" lets you launch applications, tinker wih the system, update files, browse the hard disc etc. While the Networks tabs lets you switch off and on the wireless, bluetooth and wired network connections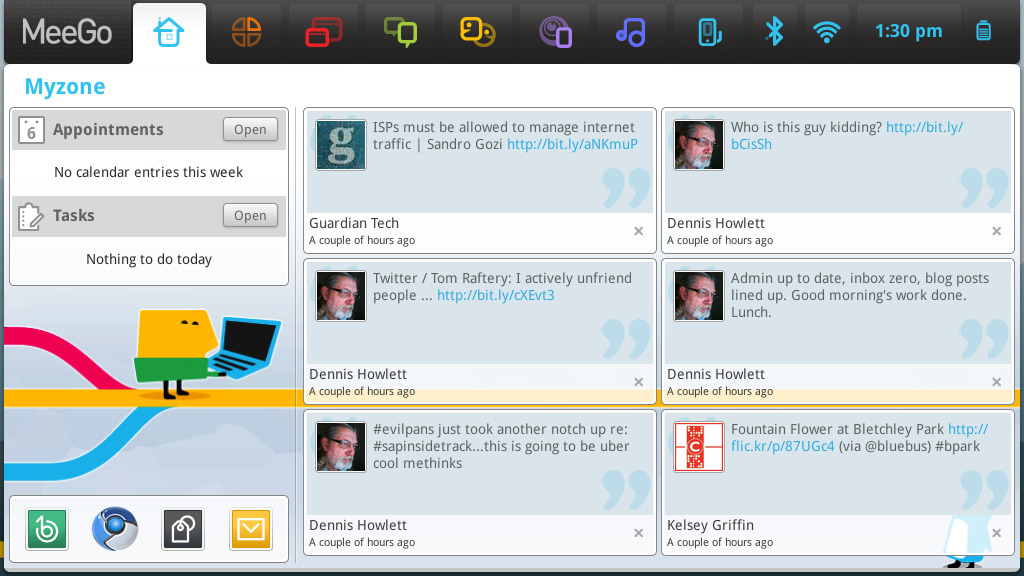 .
This is a version 1.0 OS and many things do not work. To get wireless going on the troublesome Broadcom chipset used a Lenovo S10e I tried, I needed to install the OS, dev tools, and follow the excellent instructions from blogger Slaine, on compiling the Broadcom driver. Not pleasant, but it did eventually work. The package manager is not as intuitive as Ubuntu and there are less apps available – although Gimp is present, which came as a pleasant surprise. Open Office can also be made to work quite easily by following these instructions.
I was annoyed that the Huawei 3G dongle for connecting to O2 was a non-starter. Nor could I get the Citrix XenApp plug-in to wok (that said, it required several careful steps to get Citrix going on Ubuntu).
I look forward to having these two piece of functionality, as they would greatly improve the usability of MeeGo in the enterprise. In the meantime, I think it's worth giving MeeGo a test drive. It's a nice looking OS – and not bad to use, if you can get wi-fi going.