Zen & the art of help-yourself pick & mix helpdesks
Cloud is a service — doh, no big surprise there really right?
Why then is customer support and help and succour, sustenance and service not a more up-front message in the message sets used by cloud vendors?
In truth it actually is, open hybrid hosting cloud specialist Rackspace sells itself on its so-called "Fanatical Support" (capital F, capital S if you don't mind) where the company differentiates itself from vendors including Amazon Wen Services — the latter preferring to post lots of technical documentation online because "developers like it that way" or something close to that.
Surely helpdesks themselves should be cloud-based and redolent and reflective of all the core benefits of cloud computing itself i.e. flexible, customisable, manageable and "turn off and onable" (if you will excuse the technical term).
So it is then that Zendesk proffers forth its Help Center product designed to be considered as a knowledge base, community and customer portal designed for customers to help themselves.
This tool enables a company to create a self-service portal that is relevant for their customers and is as simple to create and customise as a blog, or so it is claimed.
Self-service is more important than ever before as consumers increasingly expect to find their own answers to support questions says Zendesk.
The BIG statistic
The company asserts that "four times as many" customers seek answers for themselves through self-service options than submit a request to a company for support.
Meanwhile, two out of three consumers say they prefer finding their own answers over interacting with customer service representatives, a separate survey found.
"Consumers want customer service on their own terms, and they expect to find immediate answers online," said Adrian McDermott, Zendesk's senior vice president of product development. "The new Help Center makes self-service a first-class experience, both for companies customising it for their needs and for their customers seeking relevant content."
Zendesk has offered self-service options since its founding and last year launched a mobile-optimised interface for self-service.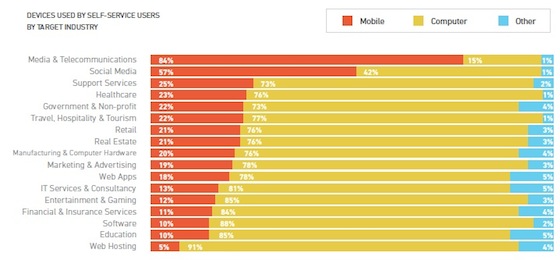 Lessons for the future of software application development service and helpdesk provisioning or "customer eXperience" (yes, written like that, honest) spin?
It's getting more real by the day.
Editorial note: this is promotional video for Zendesk the company, it is tongue in cheek and enjoyable and helps embody and clarify the meaning of customer service, so while it is promotional in most senses, it is hoped that it adds to editorial value.