Yahoo! Open Hack Romania, in pictures
Bucharest, Romania is the location for the 2011 Yahoo! Open Hack day. This is the fourteenth event of its kind and somewhere around 300 developers have descended on the city to hack up & mash up, eat pizza and cram as many carbonated drinks down as them as they physically can inside 24 hours.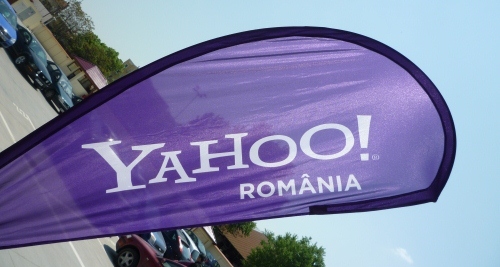 The thing about an event like this is the passion evident in the eyes of the coders themselves; the programmers work a full 24-hour cycle through the night without sleep. The event began with a series of technical workshops, followed by the 'hackathon' itself.
Services and APIs such as YUI, YQL and BOSS serve as the core building blocks for the developers' new applications.
YUI is an open-source framework, written with JavaScript and CSS, for building rich, interactive web applications.
YQL, the Yahoo! Query Language, is an expressive SQL-like language that lets developers query, filter, and join data across web services.
Finally, BOSS is a data API that gives developers access to web search, image and news content for a low usage fee.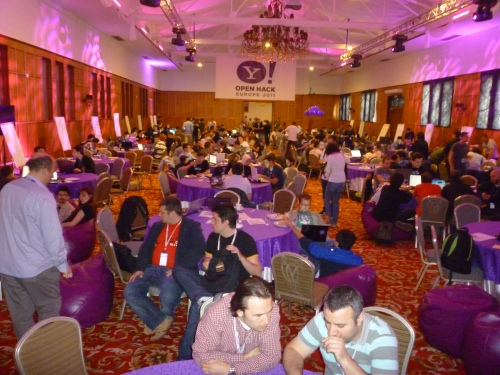 Also attending the Bucharest event are some well know programmers and developers who have made their name on the global stage.
Douglas Crockford (pictured below) is known for popularising the JavaScipt language JSON (JavaScript Object Notation).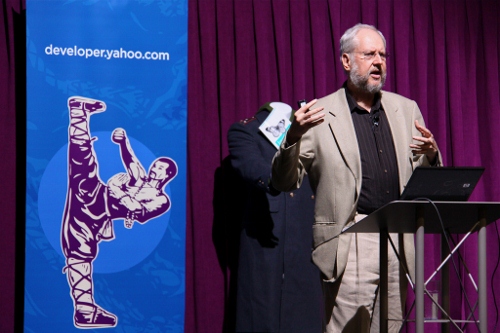 No sleep till hack heaven – this event's attendees are working mostly in teams, grabbing some much needed shut eye as and when they can. Some of the 'hacked' technologies resulting from these events do indeed make it into Yahoo! Proper.
A new photo sharing tool is featured in Yahoo!'s full-blown offering and this did indeed result from an open hack event.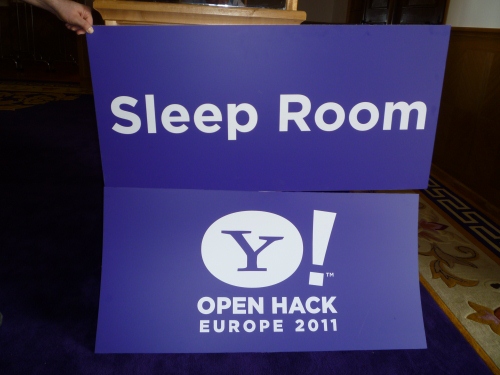 Yahoo! lays on a games room and chill out centre for developers to use at these events, but most of the time is spent at the keyboard. The ethos here is innovation at its most distilled – but if that sounds like a cheesy marketing line, Yahoo!'s Todd Hay was pretty open about how much real value the community stands to benefit from these gatherings.
"Real innovation comes from a real world event such as this, not from capturing some 'best practice blue sky thinking' session held in a boardroom somewhere in Sunnyvale," said Hay, who is head of the Yahoo! developer network.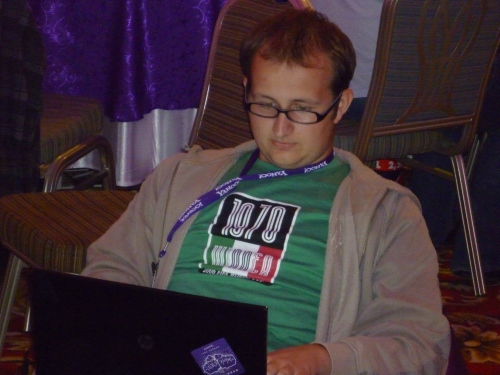 Although Romanian hackers make more headlines for their black hat malicious credit card scamming negativity. The new "free" Romania is attempting to press hard for democracy and justice.
How much of that emanates from Bucharest's colossal government building is hard to say — as I taking the below picture, a friendly Romanian policeman issued me with a no nonsense "vamoose!" and I don't think that means welcome to Bucharest have a nice day.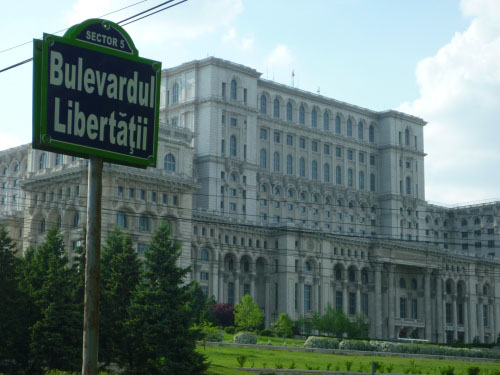 So what is Yahoo! today? I asked Yahoo! chief technology officer Raymie Stata and his team during a press roundtable – and this is how the company wants to position itself now:
Yahoo! Search Direct gives answers not links (so they say).
Yahoo! founded the hack days concept and now Facebook (and others) host similar events — the company wants to hammer home its developer message.
Yahoo! is a media company, but is also a platform.
Yahoo! is a search company? No – Yahoo! is a digital media company, that's how they would prefer it.