Just when there aren't enough women in data, along comes a whole book of them.
Well, in seriousness, last week's AnsibleFest in London was a day-long conference for sysadmins, developers, DBAs and related engineering professionals to dig deep on configuration management but…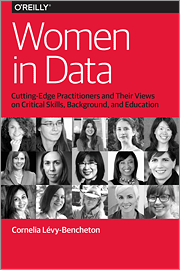 … of the 300 attendees, only one single handful were female.
Thankfully though, the wider imbalance is slowly and deliberately being rectified piece by piece.
O'Reilly writer Cornelia Levy-Bencheton's new 2015 title is simply titled 'Women in Data' and she says the gender gap in tech is shrinking.
An underrepresented minority
Women are still an underrepresented minority in the disciplines of science, technology, engineering and maths (STEM), but women in data and technology are no longer outliers or anomalies.
NOTE: She's American, she said "math" as a shortening for mathematics, the above text has been corrected.
For this book, author and data warrior Cornelia Lévy-Bencheton interviewed 15 women in data to learn how they achieved their current level of success, what motivated them to get there, and their views about opportunities for women.
Levy-Bencheton says that introducing women to STEM is now a nationwide crusade (she's American, what she meant to say was 'international' and 'global'), but advancing the idea that gender diversity fuels creativity, innovation and economic growth is still a challenge.
The stories in this book are inspiring, revealing insights that will widen the path for even more women in tech.
These interviews explore:
• The expanding role of the contemporary data scientist
• New attitudes towards women in data among Millennials
• Benefits of the data and STEM fields as a career choice for women
• Much needed and increasingly sought-after remedies for closing the gender gap.
The Computer Weekly Developer Network blog spoke to Carla Gentry who is based in Louisville, Kentucky USA in her role as data scientist at Analytical Solution — a firm created to assist small companies who don't have an analytical department or companies that need a Analyst to come in for a few hours to assist on a per project contract, Gentry's comments follow below:
"I hope my story inspires someone who hasn't had the 'normal' career to see there are many ways to push through adversity. Just because you have kids or are divorced, you can still be a successful women in tech, business, or what ever you want. Never let anyone tell you that you CAN"T do anything and if they do, then make it your life's mission to prove them wrong! Best wishes to all thelLadies out there that want to better themselves and stand on their own two feet :o)…"