Windows Phone 7 & ladies in lingerie
Just six weeks after the launch of Windows Phone 7, Microsoft has announced it now has almost 3,000 apps and games on its 'Marketplace' website. Things are looking good then — and there's also been an 80% increase in the number of registered programmers since September, with more than 15,000 developers currently creating apps for the platform.
Industry rumours suggest that Microsoft has poured a huge amount of marketing dollars into Windows Phone 7 to help ensure its success. I myself am currently playing with a test unit and haven't looked at the supporting paperwork once; it's clean, sharp, intuitive and easy to use.
So why does Microsoft feel it needs to use ladies in lingerie to help advertise Windows Phone 7? Isn't it sexy enough already?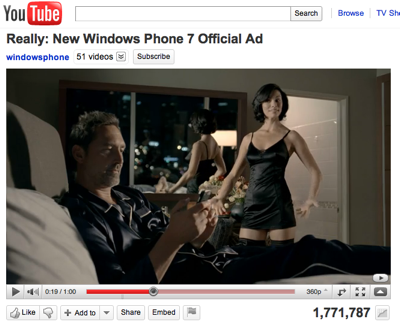 Well, being serious for a moment, the real initiatives underway to promote developer (and ultimately user) interest are a dedicated Windows Phone 7 developer blog, the option for developers to add so-called 'deep links' to their websites taking potential customers directly to the specific app or game purchase page, as well as Windows Phone devices, apps and games now being featured as prominent elements of the Xbox dashboard.
"This is just a sample of the type of work we're doing to get apps and games in front of customers. We will continue to generate more visibility in more markets across all of the screens that people rely on throughout their daily lives. Developers and the apps they create are central to the Windows Phone experience and we're doing our best to show people that Windows Phone 7 features a great list of quality apps that take advantage of the phones unique features to extend the phone experience," wrote Todd Brix on the Windows Phone 7 blog.
Brix was apparently not available for comment on the use of ladies in satin slips, hold up stockings and/or seductively lit bedroom environments at this time.