Windows 8: inside out, 3rd party in
In advance of a number of pieces attempting to pinpoint exactly how far Microsoft has managed to get its Windows 8 interoperability and wider programmer-centric messages out, the Computer Weekly Developer Network CWDN) is spending some time in the reference book library.
One of the major concerns for many is… just exactly how compatibility demands will now be met between Windows 8 and the massively-complex beautiful-beast that is Adobe Creative Suite 6.
Stage one of this analysis involves downloaded and running Creative Suite 6 on Windows 8 which appears to be quite straightforward, all the apps turn up right on the Metro interface as you can see in the below screenshot (centre bottom area for Adobe apps) quite clearly.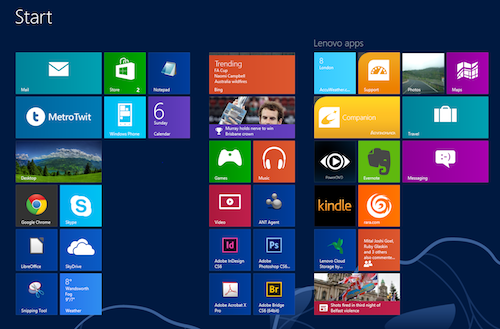 Applications appear to boot up with no major problems, although incompatibilities arising when using InDesign have been discussed on various web forums — so we will aim to address these challenges with a) some use case experiences and b) some facts from Adobe should the problems turn out to be real and persistent.
To the bookshelf
In the meantime, CWDN is nose-deep in a couple of new titles from O'Reilly courtesy of Microsoft Press
Pages.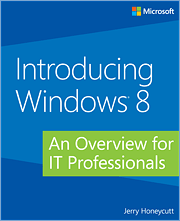 Introducing Windows 8: An Overview for IT Professionals
By Jerry Honeycutt is a network administrator and developer-centric guide to new features and capabilities, with what are called "scenario-based insights" demonstrating how to plan for, deploy and maintain Windows 8 in an enterprise environment.
Topics include: Performance, reliability, and security features, Deployment options, Managing the new UI using Group Policy and Windows PowerShell, Internet Explorer 10 and the Microsoft Desktop Optimization Pack plus Recovery features.
For the user (rather than the techie per se) there is a sister volume here released under the title Windows 8 Inside Out
 By Tony Northrup.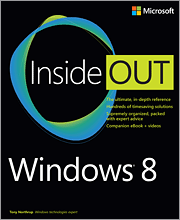 This second volume features timesaving solutions, troubleshooting tips and workarounds. "It's all muscle and no fluff," says its publishers.
Topics include: Installing and personalising Windows 8, Mastering the new UI, using pen, touch, and voice input, implementing security essentials, managing files, disks and drives, sharing and synching digital media and setting up and troubleshooting a home or mobile network.
CWDN hopes to set up a home network with connectivity to Mac OS X machines and various mobile devices across various platforms, wish us luck!
NOTE: A third book also exists in this series — Training Guide: Installing and Configuring Windows Server 2012
 By Mitch Tulloch.