Windows 10 Technical Preview, where is the START menu?
As the Computer Weekly Developer Network blog seeks to track the work of the global community of software application developers working on Microsoft's new operating system, this post is merely meant to serve as some informal additional hands-on reportage.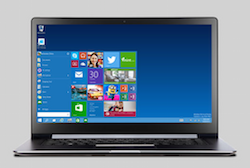 For a more fully prepared sequential step-by-step walkthrough of the install process you should read Cliff Saran's Windows 10 Technical Preview: Installing and test drive Build 9841.
First impressions
First impressions then — "gosh that was easy and fast" wouldn't be overstating it.
The install took around half an hour and worked without a single glitch — all the stages described in the picture story above presented themselves.
64-bit NOTE: Many users will sensibly opt to install the OS on a partitioned volume, but our installation here was carried out "all in" on a 64-bit Surface 1 machine.
But — it's not always seamless.
As one journalist told me, "I tried it on an old Dell Latitude tablet. Not even the 32 bit preview would load."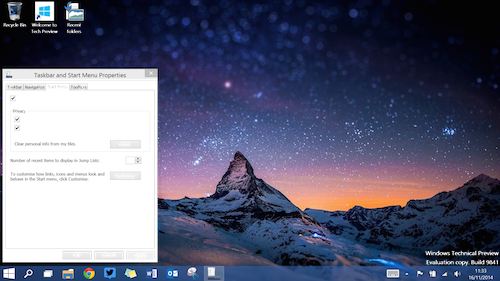 A few points of interest
If you do install on a tablet (that includes Surface, of course) then you may be wondering when the fabled return of the start menu will actually appear.
For tablets, the "START SCREEN" is enabled by default.
For desktop installation, the "START MENU" is enabled by default.
Perhaps Microsoft's Windows 8 developers still want us to think of the (infuriating for some) start screen as essentially still ideal for tablet use — well, it's not 'perhaps' is it?
So it's a simple enough process to get your START menu enabled.
Right click on the taskbar (not the desktop) at the bottom of the screen.
You can do this with a pen on a Surface by holding it in place, but a mouse if kind of easier.
Open the bottom PROPERTIES option.
Taskbar and Start Menu Properties will open up.
Select the third tab along labelled Start Menu.
Check the box that reads "Use Start menu instead of Start screen" at the top.
Apply and close.
… and yes there are instabilities, I already have a "Recent Folders" shortcut on my desktop that I can't get rid of, but it's good to be on the Windows 10 journey.