Why Dubai's developer dream can work
Dubai is known as one of the more high profile oil rich Emirates of the Gulf region's 10 total Emirates.
Sitting among the seven "united" Arab Emirates (thus forming the UAE), there are a total of nine Emir-led states in the region if we also include Qatar and Kuwait.
NOTE: As readers will know, Bahrain is a Kingdom and Oman is a Sultane — for more Arabian cultural awareness try Fake Plastic Souks by Alexander McNabb.
Anyways… this last February saw Samsung Electronics host a "developer day" for over 150 programmers in Dubai itself as part of the firm's so-called Samsung Forum.
The developer event was scheduled to run in line with similar events held by Samsung across the globe: Samsung Developer Day at Mobile World Congress and Developer Day events in Tokyo, Cairo and Seoul.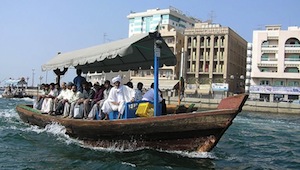 This is great news if the firm is championing the interest of local regional programmers (irrespective of their actual nationality) for many reasons.
Not only are the Dubai and Cairo markets rich with European and Asian expatriates (both of whom traditionally do well in this field), if local language speaking Arab developers are given the chance to work on everything from the command line to any application's supporting documentation to a greater extent, then this is without question a force for good.
OK so paying the appropriate lip service here, the Samsung event unsurprisingly focused on the new GALAXY Note and GALAXY Camera devices.
The developer event included the introduction of various Samsung smart devices in addition to mobile phones, smart TVs and cameras. It also apparently featured discussions on service development for multi-device convergence environments.
Samsung says that it used this event to release the latest version of its stylus-style S Pen SDK.
TECHNICAL NOTE: The update supports a variety of new Note features such as Air View, which allows users to hover with the S Pen over an email, image gallery, or video to preview the content without having to open it. Samsung also introduced the Open API for Samsung's ChatON messaging service, receiving positive responses from attending developers. The ChatON API enables third-party applications to easily integrate ChatON capabilities, for example enabling users to interact with buddies directly through embedded chat or invite ChatON buddies to play a game by sending an invitation via ChatON messenger.
Samsung has been characterised in the past for having local operations in places like Dubai that have a mix of local workers, but a management board always headed up by South Korean nationals.
Any advances a firm like Samsung makes to enlist more local talent is good news.