Where do you want your integration to go today?
Integration is on the move.
Well, it could be, it can be, it should be and ….
… it now has the opportunity to be on the move given the changing state of the developer/data/analysis/cloud landscape(s) plural.
What we mean is, integration (in the cloud sense at least) has traditionally existed as a SERVICE element i.e. a SaaS consideration.
But, in cloud, integration is viewed (or at least it should be) as a very much reusable component resource.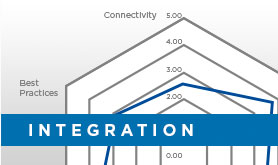 If we look at the current push towards Agile software application development and so-called "Continuous Delivery" (with CAPS) then we can see how integration in the cloud might be potentially moving out of the S – service layer and then subsequently featuring that much more prominently in the P – platform layer, for greater overall macro-level control.
Integration news is almost creating its own sub-category worthy of a genre in its own right.
TIBCO used the fading embers of its recent TUCON event to announce a announced a range of new approaches to integration for small and large businesses for its flagship product ActiveMatrix Business Works.
NOTE: Joining the core product was TIBCO ActiveMatrix BusinessWorks Express (for web and mobile integration projects) and Project Austin, a cloud-based integration application for non-technical business users.
The firm says the rise in the need for integration services is significant and it has expanded its integration portfolio to allow major technology shifts and different consumption model upgrades.
"Web and mobile projects are looking to cost-effectively integrate increasing amounts of data coming from both external and internal sources and while still providing a rewarding user experience. ActiveMatrix BusinessWorks Express addresses the needs of developers of web and mobile projects, and ensures these projects will get much faster to results, with much lower TCO, said Matt Quinn, chief technical officer, TIBCO.
Interestingly, the release of the Express edition recognises that web and mobile projects in organisations of all sizes require a different approach to integration.
"IT budget funds are allocated to web and mobile projects to quickly deliver value, and ActiveMatrix BusinessWorks Express will shorten this time to value. We are essentially putting powerful TIBCO technologies into the hands of everyone." said Quinn.
NOTE: According to a November 2012 Gartner report titled, Predicts 2013: Application Integration — by 2016, the integration of data on mobile devices will represent 20 percent of integration spending.
… once again, integration is on the move.
"Project Austin is a stand-alone cloud service that represents yet another approach to integration from TIBCO and is aimed at business users. Departments like Human Resources are in many instances still processing critical data from one application to the other using spreadsheets. They have an integration need that Project Austin addresses," said the company, in a press statement.
Non technical integration is here, cloud integration is here, Agile integration is here, Continuous Delivery Integration is here.
Integration is on the move, we're just sayin' OK?