Where are all the real cloud toolkit technologies?
Not enough companies are talking about the guts of cloud mechanics.
Areas we need more detail on include the implementation of automation controls, new security considerations for cloud environments, the real world deployment of governance layers — and, crucially, application provisioning, scaling and integration.
Cloud-centric software development technology vendors talk about these fundamental aspects of new cloud installations and cloud migrations, but we rarely get down to the guts of the deal.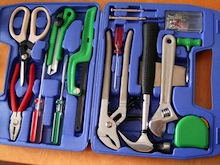 Given this shortfall, we need to sharpen our radar and look to companies producing "cloud toolkit" technologies.
Silicon Valley last night pumped out news of TIBCO's Cloud Bus offering. This subscription-based Integration Platform-as-a-Service (iPaaS) offering is designed to present cloud DevOps staff with a means of migrating applications and workloads to the cloud.
It's all about trying to combine the deployment flexibility of the cloud with enterprise-class software integration features that have existed long before cloud arrived.
"[This is a] single subscription service that customers can run anywhere — on-premise, in the cloud, in bare metal or virtualised environments," said Matt Quinn, CTO for TIBCO Software.
"TIBCO Cloud Bus provides ready-made integrations across popular SaaS and critical on-premise applications, while allowing subscribers the ability to identify, configure and extend integration templates for their own business context with ease."
This is real-time integration such that changes are reflected in all connected applications as they happen, without waiting for the next batch update.
NOTE: VMware and TIBCO are working together to offer this technology as a service on VMware vCloud Hybrid Service.
"Once implemented, customers will be able to deploy TIBCO Cloud Bus and extend application integration from private to public clouds on the same infrastructure, with common management and orchestration," said Mercer Rowe, director of cloud services partner strategy, VMware.
TIBCO's Quinn asserts that this "brings a new level of maturity to the cloud integration market" – but then he would say that wouldn't he? What it does do is push forward more hands on cloud toolkit intelligence — and this is what we need to hear more about.