When software encryption fails, use a PIN number
Malware, phishing, hacking, BYOD risks and security vulnerabilities of all kinds are becoming more sophisticated every day — this we know to be true.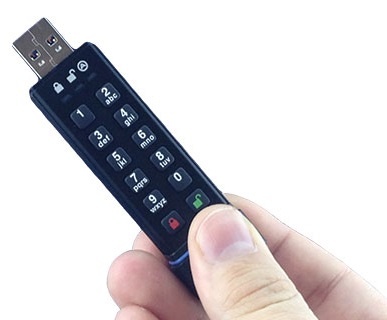 Equally, of course, the strength, robustness and resilience of encryption controls are increasing every day.
Yet still, software-based protection often fails us.
Fundamental finger-power
As a blog devoted to software application development and the mechanics of software engineering, we have to concede to being impressed with a piece of technology that relies upon a hardware-extension (if we can use that term for a PIN-entry number pad) for its power.
The ultra-secure portable datAshur SSD flash drive is a nice thing.
Military grade
When software encryption controls come into question and hackers still find their way in, doesn't a physical PIN number and military grade full-disk XTS AES 256-bit hardware encryption sound like a good idea?
CEO of the product's manufacturer iStorage is John Michael — he explains that businesses and individual users are increasingly becoming targeted by threatening attacks that can have significant consequences and we continue to see new threats surfacing globally.
"The rise and proliferation of malware and other forms of cyberattacks is a growing concern for both consumers and organisations of all sizes, and leaves a question mark over certain data protection methods," said Michael.
Software-free
So is there a case for software-free portable data storage?
"When we look at the ever-evolving threat landscape that lies ahead, there is a strong case for software-free portable data storage technologies that combine military grade AES 256-bit hardware encryption with on-board PIN activation such as the diskAshur Pro ultra-secure portable hard drive or the datAshur SSD flash drive that we have developed to ensure robust data protection," argues Michael.
He asserts that the need for high level hardware encryption and cross-platform compatible portable data storage devices has never been greater and iStorage deliver products that are ultra-secure – packed with security features, easy to use and that work on just about any USB device.
The product also has a 'Brute Force' hack defence feature; capacities of 30GB, 60GB, 120GB & 240GB; plus crypto-parameters protected with SHA-256 hashing