What to expect from TIBCO NOW
TIBCO NOW is staged this week in San Francisco, so what can we expect?
10 basic facts should cover us off…
Fact #1 — TIBCO will remind us that its company name is justifiably capitalised and that it stands for The Information Business COmpany.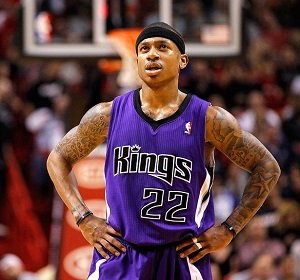 Fact #2 — Company CEO Vivek Ranadivé (विवेक रणदिवे) will talk about his "two-second advantage" data theory and mention his work with the Sacramento Kings in the National Basketball Association (NBA).
NOTE: For European readers: basketball is a game of four quarters where men (or women) bounce a 22 ounce ball between 29.5 and 30 inches in circumference into a steel hoop.
Fact #3 — The firm will remind us it has just released version 5.6 of its Jaspersoft business intelligence (BI) software.
Fact #4 — Australian CTO Matt Quinn will be interesting, convivial and (arguably) a good source for quotes.
Fact #5 — The firm will talk about its new integrated Content Analytics capability in its TIBCO Spotfire Analytics platform.
"Now customers can connect to new sources of unstructured text-based data and discover trends, identify patterns, and derive new business insights for improved decision making. Fully integrated into the Spotfire UI, the new Spotfire product capability powered by Attivio's Active Intelligence Engine (AIE), will deliver fast, comprehensive sentiment, content, and text analytics functionality," said the company, in a press statement.
Fact #6 — Technical breakout sessions at TIBCO NOW will focus on products such as BusinessWorks 6, ActiveMatrix BPM, StreamBase, Jaspersoft, and Spotfire — all TIBCO own-brand products.
Fact #7 — Product VP Lars Bauerle will remind us that the ability to quickly derive insight from human-generated content is quickly becoming a critical business need for organisations looking to understand overall corporate performance.
"With Spotfire Content Analytics, we combine our intuitive visual discovery platform with a powerful content analytics engine to offer a best-in-class product for human-created, unstructured content, regardless of the source or format," said Bauerle.
Fact #8 — TIBCO decided to drop the previous 'TUCON' name for its annual event based on the need to stress the immediacy factor (i.e. Now) of its technical proposition to the market.
Fact #9 — These five speakers will present keynotes.

Fact #10 — The Barenaked Ladies will play the closing concert — people will inevitably try and pronounce quite complex lyrics: Chickity China the Chinese chicken, you have a drumstick and your brain stops tickin'.