What to expect from SAP TechEd 2013
SAP TechEd 2013 is here. The party faithful are gathering and there are a few shockwaves and revelations… plus a few logical predictions to be made here and there.
First to Sybase — there has been much web forum discussion as to which elements of the old Sybase stack will still feature in current SAP gatherings — or indeed on the wider SAP roadmap.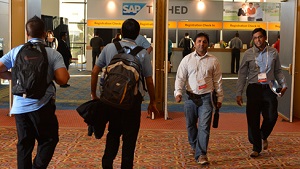 Specifically, developers have been asking whether the Sybase PowerBuilder Integrated Development Environment (IDE) and business application development tool would still be featured (or even supported!) this year and going forward.
Still other PowerBuilder users and customers have been asking how they might make their PowerBuilder apps available via SaaS platforms – this also appears to be a work progress with SAP telling us that "it'll get back to us"… the reality appears to suggest that the firm is ploughing all its energy into HANA.
SAP's (ex-Sybase) Sue Dunnell wrote earlier this year, "I know that folks are waiting for any news on SAP's commitment to the [PowerBuilder] product. I've been upbeat and positive in my communication because I want to communicate to our customers that we have support for the product from senior management… and support for developers overall is very strong."
So let's move on down the SAP product line.
What we do know is that SAP will talk about Lumira, the product that came out of the renaming of SAP Visual Intelligence business intelligence and analytics software.
Lumira might sound like a good name for a "surprising spacious" Japanese family saloon car, but it is more Google-friendly and human-friendly than the old moniker and this is an easier way for SAP to sell "self-service business intelligence for everyone, as they say in marketing land.
So Lumira (and the accompanying Lumira Cloud) now is all about making dig data analysis interesting for everyone.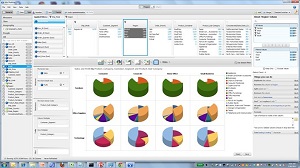 More technically speaking, this concerns functions including data manipulation, data merging and use of a "formula editor" to dig into data sources across different data formats during data acquisition.
In terms of use, data developers (and SAP will tell us business users too) will want to customise charts and create "user defined views of data" without heavy scripting or coding. If you listen hard enough here, SAP will tell you to expect "cool charts and visualizations" (with a Z), but we will move on.
So onward to keynotes and SAP's Dr Vishal Sikka.
There may be some more official reaction to reports circulating on Reuters this weekend which detail the firm's moves to close one of its business units.
According to Reuters, "Business weekly Wirtschaftswoche said SAP would stop the development of a software dubbed Business By Design, although existing customers will be able to continue to use it."
… actually SAP may yet have been done a disservice by initial reports — sources close to events are suggesting that the various reports on ByDesign's demise are incomplete. But now that the topic is in the open, SAP will have to address these because development partners will be asking the same questions about its future and what it means for their custom development.
SAP will also talk volubly on Fiori, its productivity-focused collection of apps that support the most broadly and frequently used SAP software functions. SAP Fiori includes 25 apps for the most common business functions, such as workflow approvals, information lookups etc.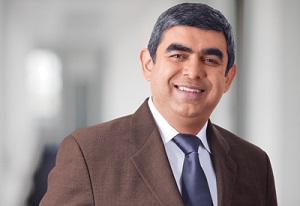 As executive board member for products and innovation (he's the tech lead, basically) for SAP AG today, Dr Vishal Sikka will detail the latest movements for the HANA data and applications platform.
Bread and butter Dr Vishal
OK so you knew that part, that's the bread and butter of what Dr Vishal does.
More specifically, the HANA that was once "just a database and in-memory computing platform with a strong emphasis on ERP" is now much further along on its journey to become much more than this – although it is still quite openly and definitely a work in progress.
Dennis Howlett has already written on diginomica saying that he also expects SAP to centre on landscape simplification. "This is one of the great HANA promises. Once again, we're not talking 'job done' but SAP has made significant progress across multiple applications."
SAP and open source
Howlett also points to SAP's approach to open source and says that, "For too many years, SAP has had a toxic 'not invented here' syndrome where if the development wasn't coming from Walldorf then it didn't exist."
The diginomica founder and orator also draws upon his deep knowledge of SAP saying that, "SAP already knows it needs to behave differently It's just not clear whether the transformation Sikka has promised is sufficiently advanced to make that a reality. A strong commitment to open source goes some way towards achieving that."
Developers, developers, SAP developers
Community, community, community, developers, developers, developers – yes, SAP will also talk about that a lot and we should add customers, customers, customers to that list too.
Let's not forget that this event is also a key opportunity for SAP to listen to its customers, developers and community and we might even be so bold as to include press in that last category. So let's hope the week ahead is mutually beneficial for all.