What to expect from Qt Developer Days 2010
It's hard work coming to Munich and bypassing the city centre, the bierkellers and the Gothic spires of the Marienplatz to head straight for an out of town 'conference hotel' where the Bavarian flavour is limited to the 'Oompah-Band-Burger' on room service. But such is life and such is Qt Developer Days 2010, which I am secretly pleased to attend as I have been at the last four year's events and know the team to be straight talking developer-focused 'Trolls' as they like to call themselves.
The 'Troll' reference is a throwback to the days of Trolltech and the company's initial iteration in its pre-Nokia acquisition form. Speaking to developer evangelists last night, it appears that Nokia has been mindful in terms of brand and culture awareness with Qt and allowed the company to retain much of its original identity and approach to cross-platform application framework development – situated as it is in its Oslo headquarters.
So what to expect from the week ahead?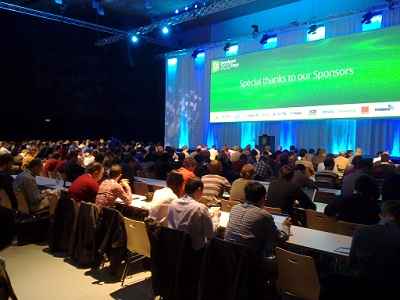 Photo credit: David James Stone
Well, it's a refreshing start this morning. Rather than kicking off with a corporate keynote, we're straight into a training day to match the newly announced Nokia Qt 'Specialist' certification. There are 50 technical tracks, almost all of which are being presented by Qt's own developers making up a total of 62 hours of training. Qt hosts up video sessions from last year's event as well as the new training content that it creates throughout the year and this last twelve months has seen 35,000 hours of e-learning clocked up.
Speaker Line Up:
Up on the podium this week once again is Sebastian Nyström, VP of application service frameworks for Nokia, Qt Development Frameworks – and he'll be joined by Qt director of R&D Lars Knoll who between them will 'tag team' the roadmap ahead for the next year to eighteen months.
Nokia has brought out the big guns for the week ahead and we do get to hear from (and meet) Rich Green who is senior VP and CTO of Nokia itself. It won't quite be a press one-on-session, rather more of a seven-on-one, but it'll be interesting to hear what the big man has to say one day after the launch of Windows Phone 7.
As well as building the GUI and the application structure for the Air Traffic Control system at Munich airport, Qt is also being used by DreamWorks Animation for a new application and lighting system.
As for more, I'll keep a few things for other blogs. Suffice to say for now that this year looks completely different to previous years, substantially bigger, many new attendees showing new interest in Qt – and a lot more dedicated developer training.
Here's a link to some photos from last year that I took myself – they have been illegally hosted on this Chinese website, so feel free to click the link and have a look if you wish.