What to expect from NetSuite SuiteConnect 2014
Okay so here's how to market the cloud computing proposition.
If you have a corporate day for CEOs, CFOs, CTOs, operations executives and everyone else in the stakeholder selection pack… then don't just call it a meeting, brand it with a specific 'event' label.
Something like Cloud Summit 2014, or Virtualisation For Business Disruption is good — better if you can get the company name in too though.
Next… get your CEO and founder (two different people, ideally) to turn up.
Sort out an agenda and make sure you've booked drinks & nibbles and that you've accommodated for: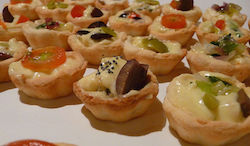 • the gluten intolerant,
• those with nut allergies,
• those with a proclivity for other quirky digestive needs.
We recommend no 'octopus amuse-bouche canapes', it's just way too left of field.
Finally, run an ad in the newspapers deliberately haranguing your competition.
Oh… and if possible, have your CEO's last keynote staged with a session where he or she takes direct pot-shots at big name players such as SAP and Microsoft.
This is NetSuite, this is how they (it) do it… this is the way the company rolls.
… and so it was that NetSuite SuiteConnect 2014 shall come to pass.
Next week sees CEO Zach Nelson's keynote examine how companies are using the cloud to transform operations — and there promises of real-world success stories of how European businesses are using cloud solutions.
Nelson and founder Evan Goldberg will detail NetSuite's roadmap for the future including new product enhancements.
All just industry showboating?
Perhaps not, there will be 12 educational breakout sessions to further improve cloud expertise.
Among the real techie stuff here are sessions entitled:
High-Tech: Critical Metrics for the High-Value SaaS Business.
Creating a Customer Centric Organisation with Cloud ERP. Deep Dive Demo.
Forecast & Planning Best Practices.
Nelson describes himself as an American Britophile and is plotting to move to the UK for a period early next year to help bed in recent acquisition Venda (the UK commerce technology leader) and to unsettle a large accountancy software related company named after a herb beginning with S.
Editorial disclosure: Adrian Bridgwater has worked as blogger for NetSuite at it's annual SuiteWorld 2014 conference but has no other professional relationship with the company.