What to expect from IBM Insight 2015
IBM, it turns out, was quite clever.
The company renamed its old Information on Demand conference to IBM Insight just before the whole big data analytics (which leads to 'insight', obviously) thing really started to take a hold across the tech industry about two years back now.
NOTE: Clearly we can trace big data analytics back further than that, but you get the point.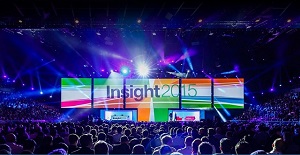 So after IBM Insight 2014, what can we expect from IBM Insight 2015?
Better empowered – awesome!
Well, for one thing, we can certainly expect some glossy well-practiced US West coast stage presenters telling us that they are 'better empowered' by IBM today – awesome!
But after the showboating, there is much to learn here… so much so that IBM refers to its conference schedule as a 'curriculum' for education.
"From business and industry solutions to deep-dive technical sessions, learn new ways to unlock the potential of data and analytics — regardless of your interest, skill level or business priorities, the curriculum is designed to help you," reads the programme.
Tracking the tracks
Tracks this year include sessions on:
advanced analytics
data and content management
Hadoop & Spark
integration. governance and security
systems and architecture
TECHNICAL NOTE: Apache Spark is an open source parallel processing framework that enables users to run large-scale data analytics applications across clustered computers.
The need for speed
You can expect IBM to focus on real time (big) data and the need for speed.
Most likely we will find that Big Blue hammers home the "data is simply moving too fast for traditional approaches" message as it tells us how organisations must take advantage of new best practices of harnessing data.
… and you know there will be plenty of Watson.
For developers… IBM will focus on its Watson Developer Cloud service, which this year already gained additional intelligence in the form of advanced language understanding as well as speech and vision services.
Today we know that IBM Watson is a computer (it lives in Astor Place, New York and there's one in San Francisco too) that is capable of extracting meaning from unstructured text, video, photos and speech.
IBM has recently also developed cognitive APIs to establish software connection points that work with tools for software application developers to code Watson intelligence into new applications.
Fancy a bit of a session?
Sessions, sessions, sessions — yes there will be lots of sessions again this year and they are typically broken out as hour-long presentations that stop for a 15 minute Q&A (or diet Coke induced 'comfort break') at the end.
Session types this year include the keynotes (obviously) plus presentations from Box, Boeing, The Weather Company and Ron Howard.
(Ed — Ron Howard? Don't tell me that 'Happy Days' runs on IBM now does it?)
There are also sessions presented in the form of panels, hands-on labs, Engagement Center sessions, Meet-the-Expert sessions, Design Studio sessions and the always welcome EXPO Theater sessions.
IBM Rocks
As well as opening receptions and after-hours roulette for the more hardcore technology hacks among us, IBM rounds out this year's event with a concert featuring Maroon 5 (the Imagine Dragons and Train were obviously unavailable, thankfully), so even geeks will be able to move like Jagger by the end of the week.
Awesome.
Editorial disclosure: IBM covered a proportion of Adrian Bridgwater's travel expenses to attend its conference.