What to expect from F5 Networks Agility 2015
F5 Networks holds its Agility 2015 conference next week in the bright and shiny Scottish capital city of Edinburgh.
There's a bit of urban myth surrounding why F5 is called F5, but popular agreement (and, shamefully, Wikipedia) seems to have settled upon the firm having taken its name from the Fujita Scale damage rating for a tornado, where F5 is quite a lot.
F5 is all about protection and control in the face of a data vortex, this does make sense.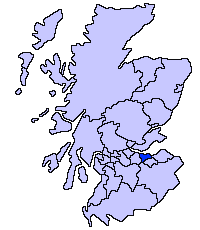 The company is now known for its Application Delivery Controllers (ADC), which work to optimise the delivery and security of network-based applications.
More specifically, an ADC is a network device that manages client connections to complex web and enterprise applications — in general, a controller is a hardware device or a software program that manages or directs the flow of data between two entities.
This event has already called in at stops in Tokyo, Beijing, Shanghai, Singapore and Jakarta — after the exotic climbs of Scotland the team moves on — to Washington DC, Melbourne and Sydney.
Deep-fried Mars Bars?
Aside from the epicurean treats that Scotland will no doubt have to offer the attendees, what else will the event contain?
The firm says that Agility 2015 is a chance to hear F5 "leaders" as well as customers and partners share how the latest solutions are transforming what's possible for today's organisations.
Nice platitudes there, but what does F5 really mean?
The firm insists that that it will host dedicated press roundtables with its CEO Manny Rivelo to examine F5's industry outlook and take on key topics including hybrid cloud, security and online fraud.
-as-a-Service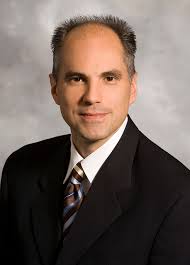 According to the flyers, "[We can] learn how F5 is bringing the power of cloud, datacentres, converged systems, and as-a-Service together to enable fast, efficient, and secure application delivery in today's challenging hybrid environments. Agility also means networking with industry peers, connecting with decision-makers, and building new business relationships."
Senior VP Dean Darwin will spend some time detailing F5's vision for the future with regard to its technology base.
As a point of interest, this is in fact CEO Manny Rivelo's (pictured) first public appearance in the UK (or indeed Europe) since being announced as F5's chief.
He is expected to talk about the company's vision of the future of application delivery, especially the need to architect for hybrid clouds and software-defined data centres.
Other news at the event should include detail of F5's next foray into security services delivery from the cloud and related new business models customers expect.
The company is also expected to lead on newer areas of the business, with web fraud a front-and-centre concern in the financial sector especially.
Scotland the brave… let's see 'Silicon Glen' shine please.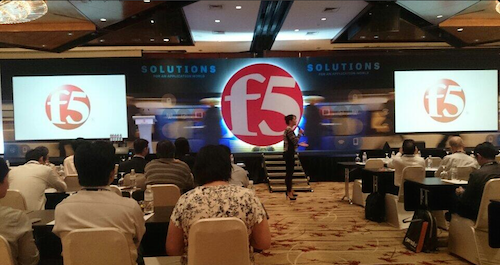 Image — keynote session at #F5Agility Asia-Pacific: "Yes, we have a logo."